DIY Projects You Can Do Without Leaving Home
In the midst of the COVID-19 outbreak, many of us have found ourselves with a little extra time on our hands, and we want to make the most of it. While binge-watching your favorite TV series is an entirely acceptable alternative, why not take this time to make small changes to your home
now that will certainly pay off down the road? In an effort to provide you with some fun and creative ways to improve your home during quarantine, we've reached out to experts in home improvement from Richmond to San Francisco. Read on and let these ideas from the professionals inspire you to make the most of your time inside.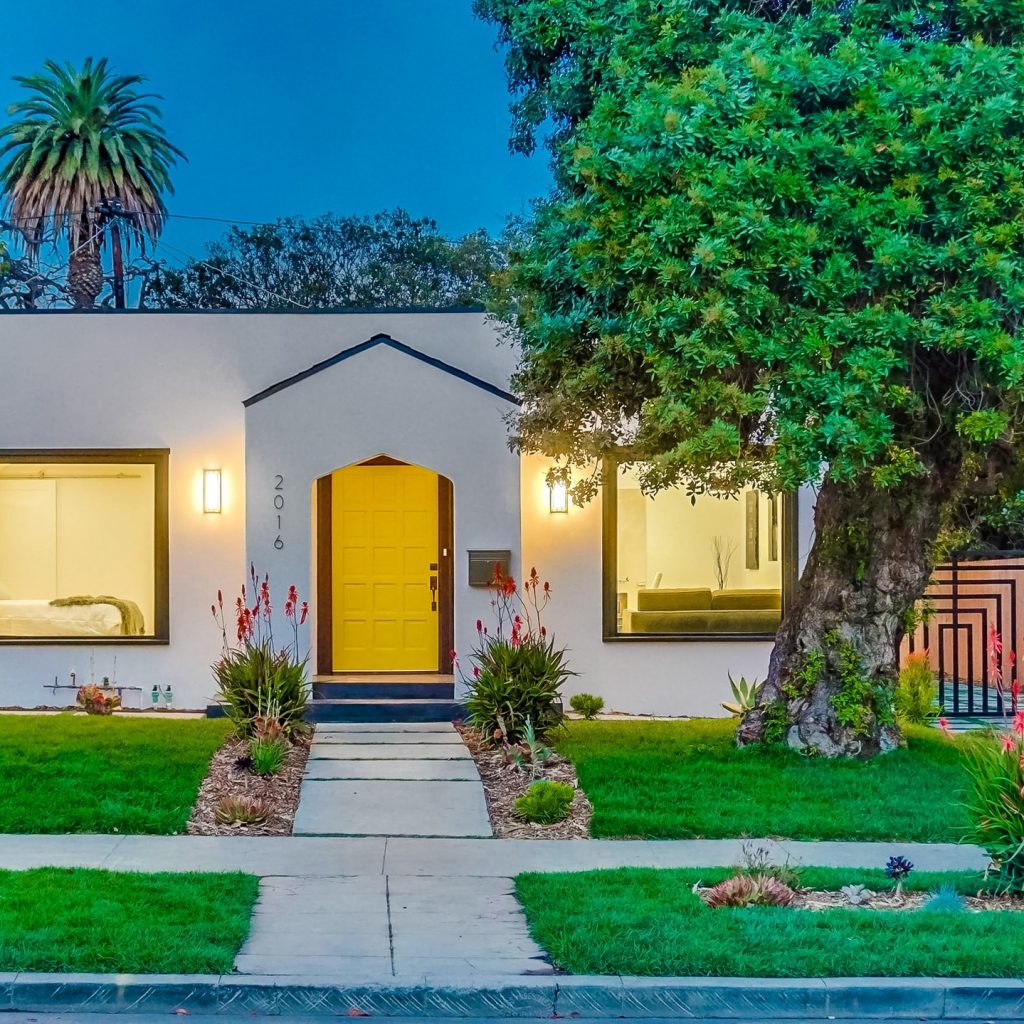 A great way you can increase curb appeal during the quarantine is by painting your front door. A freshly painted door improves the general appearance of your house and this project can be tackled in one day! Order materials online and pick up curbside from your local paint store.
Sunwest Painting

Walk the fence line and look for fungus, loose fence boards, loose connections at the posts, rotten posts, and inspect gates. Fungus can be scraped, or wire brushed prevent further decay, loose fence boards can be re-nailed, loose connections at the posts can often be repaired with
long screws or a metal L bracket. Rotten posts can be removed and replaced or often repaired with a metal post mending bracket (purchased at a hardware store or online). Gates are the trickiest part – takes a little evaluation to see why it's no longer working, but often it can be
repaired by retightening or replacing existing hardware screws or by re-securing the original frame. – Gayler Design Build

A great project homeowners can complete without the need of going to the hardware store for materials is cleaning their gutters. Maintaining and cleaning your home's gutters is an important project that should be completed 1-2 times per year. It requires tools and equipment most homeowners already have. The tools a homeowner may need may include a ladder, small gardening shovel or gutter scoop, gloves, and a yard waste bag. Gutter debris are also great to add to a compost pile! Homeowners should make sure to secure the ladder on level ground and have someone hold the ladder while they are cleaning the gutters. – My Handyman

Some of the DIY projects I'd like to do while at home start with a spring refresh: take a "magic eraser" to the walls and light switches, wash the windows, launder the curtains, give the house a good "rubdown" before Passover or Easter. Others can be tightening loose screws on cabinet doors or doorknobs, lubricating squeaky hinges, switching out screens for storm windows, organizing the garage so warm-weather equipment is toward the front and cold-weather equipment is toward the back. Of course, I recommend doing all of the little, niggling organizing projects that get put on the back burner for "when we have time." That could be going through
photos (prints or digital) and putting them in order, sorting through an attic or basement, purging old files (shredding takes time when you have to do each page by hand, so now is an opportunity), cleaning out a pantry, paring down clothes closets to what is loved, worn, and in good repair. Generally, this is a great time to tackle the tasks on the "Someday" list; each
individual's list will be unique. – Let's Get Organized

Spend some time styling bookshelves. So many people have a haphazard collection of photo frames and books on their shelves that make their spaces feel cluttered; it's amazing how a well-styled bookshelf can transform your space. There are a ton of Youtube videos available to help in more detail but start by taking everything off your shelves and editing what's there, like getting rid of outdated travel guides or books that you'll never read again. Then we suggest getting rid of all the dust jackets on your books for a more cohesive look, limiting the books you put back on the shelf to colors that complement the rest of the room. Also, consider limiting the number of picture frames you display; less is more when it comes to photo frames. Finally, "go shopping" in your home for objects like boxes, vessels or anything sculptural to break up the groups of
books and provide added interest. – A-List Interiors
– Update a bathroom vanity: You don't need much to transform your beauty space! One can of paint in a fun color and some cabinet knobs can update your old vanity beautifully!
– Freshen up your kitchen space: Spray paint some standard terra cotta flower pots, in some fun colors or neutrals, to match your décor. Plant some flowers or herbs to sit in your kitchen window!
– Paint a room! Two gallons of paint and some painters tape and it will light bright and refreshed.
– Change up the style of your tile: Get creative and use a Sharpie for drawings/patterns to create a fun accent wall! Use a stencil to paint over boring floor tile and give it a unique look. – FBC Remodel

There are so many purposes that a living room can serve. For example, in some homes, the living room might be more of a showroom and only used during special gatherings while in others it performs as the heart of the home and a place where everyone can relax. Whether your living room is a showroom or a relaxing retreat finding the right furniture layout can always be a challenge. We suggest mixing it up a little and try out a few different arrangements. Here are a few professional pointers to help jumpstart you on your new endeavor. (1) Focal point: establish a focal point in the room and position the furniture around it (try a fireplace, TV, or window). (2) Seating: create a few different conversation areas and place your furniture close together; this will help to create a more intimate setting. (3) Flow: make sure to leave enough space between your furniture so you can easily pass through while maintaining clear access to other rooms. We hope that mixing it up will help to give you a fresh start to 2020 and who knows; you might end up with a wonderful layout that works perfectly for the function of your living room. –Design Lines Signature

One fun DIY project to do now, particularly when the kids are home, is to create an accent chalkboard wall. An accent chalkboard wall is easy. You probably already have paint supplies at home and all you'll need to purchase is chalkboard paint, which you can find at Lowes, Home Depot or even Walmart. It's a great time for the kids and it gives them a new space for activities and creativity. – Cipriani Remodeling Solutions

A collage can update any space in a home with a fresh color scheme and captivating images. The only materials you need are an adhesive like Mod Podge or wheat paste and some kind of paper material. That could be leftover wallpaper, pages from fashion editorials, or even that collection of pomological sketches you have been collecting and have no idea what to do with. The key is to select a theme and color scheme! Refresh the inside of a bookcase, dresser drawers, the refrigerator, or create an accent wall with the collage as wallpaper! –Valerie Legras
Rethinking your home's dining room and returning to family meals is a great way to ride out the quarantine. Use either paper plates or fancier China tableware to serve (even takeout) and gather as a family to eat in the dining room. American dining rooms for too long have been used only for guests and special occasions—no longer. Making your dining room kid-proof, comfortable and relaxed creates a room that's dedicated to meals and family time. – Patrice Munden

Originally published on Redfin